The Dance Haven, Inc. 379 Salem Street Medford, MA 02155 781-391-0677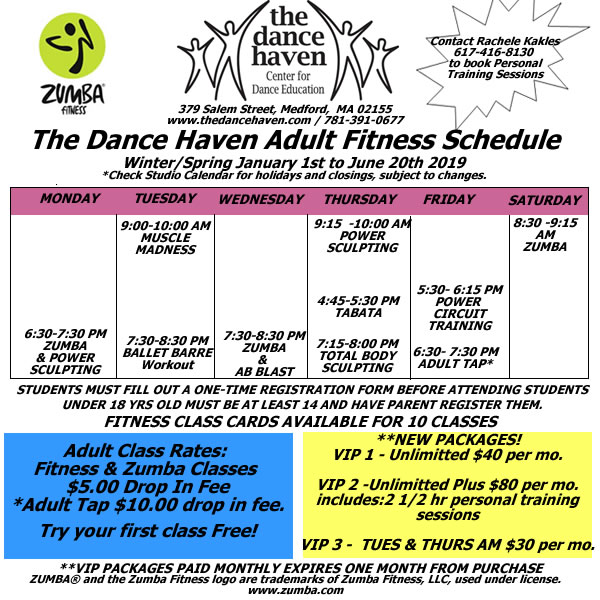 GROUP FITNESS CLASSES

" Our group fitness classes offer a variety of classes to help you build strength, cardio endurance and increase flexibility. Whether you are an advid fitness trainer or beginner each class is designed for you to obtain results at your own level. You can also schedule private sessions for one on one personalized training. Drop Ins Welcome! Class Cards and VIP Packages available. Save $5 on your first month when you and a friend sign up together.



Power Circuit Training

: This 45 minute class is sure to kick your goals into high gear. Combining cardio, strength and flexibility training to upbeat music. This class will help you work on your performance and stability. Take your cross training to the next level and start your weekend off strong. $5.00 Drop in Rate.



Adult Tap

: Grab those tap shoes and step out with 6000 dance steps. Tap is not only fun for your feet but offers fitness for your heart and mind. With fun music themes each week you can stay on beat. Class is fun for all levels whether you are a novice or experienced. Never tapped before? Its ok lots of students started that way, each week you will get the hang of it. Drop ins $10.00
Total Body Workout

- 45 minutes - This class will give you a total body workout incorporating weights and resistance along. Create the sleek and sculpted look you want. This class is great for all fitness levels. Drop Ins Welcome $5



Barre Workout

- This class is workout class using our ballet barre to create resistance an body weight traiining set to up beat music. You will have lots of fun while you sweat and tone your body. Great for all fitness levels. Drop ins Welcome. $5



ZUMBA & AB Blast

: 45 minute Zumba Workout and 15 minute ultimate ab work out. The Zumba® program fuses hypnotic Latin rhythms and easy-to-follow moves to create a one-of-a-kind fitness program that will blow you away. You will achieve long-term benefits while experiencing an absolute blast in one exciting hour of calorie-burning, body-energizing, awe-inspiring movements meant to engage and captivate for life! Join the Party today and sign up for one of our Zumba Fitness Classes. Drop Ins Welcome $5



ZUMBA & Sculpting

Workout : 40 minute Zumba Workout and 20 minute Body Sculpting work out. The Zumba® program fuses hypnotic Latin rhythms and easy-to-follow moves to create a one-of-a-kind fitness program that will blow you away. You will achieve long-term benefits while experiencing an absolute blast in one exciting hour of calorie-burning, body-energizing, awe-inspiring movements meant to engage and captivate for life! Join the Party today and sign up for one of our Zumba Fitness Classes. Drop Ins Welcome $5


Muscle Madness

: Grab your mat and your water bottle and gear up for an incredible 45 minute total body workout that will build strength and flexibility. Class includes both body resistance training and light weight trainig and is set to great motivationally themed music. You will definitely feel results after each class Drop Ins $5.



Power Sculpting

: Power Up your fitness goals in this 45 minute sculpting challenge. Set to high energy music this class offers circuit training targeting a variety of muscle groups at the same time. This class definitely will have you feeling pumped up while increasing your strength and endurance. Drop Ins $5.



Tabata

: Tabata interval training is one of the most effectivetypes of high intensity interval training. This time interval method alternates between 20 seconds of performed work and 10 seconds of rest. Through a variety of simple yet intense excercises each calss will provid noticable results in a short amount of time. Set to fun motivating music this class will enhance your weekly workout regimen. Drop Ins $5.
"Just don't give up on trying to do what you really want to do. Where there is love and inspiration, I don't think you can go wrong." ~ Ella Fitzgerald
© The Dance Haven, Inc. All rights reserved.

ZUMBA® and the Zumba Fitness logo are trademarks of Zumba Fitness, LLC, used under license. www.zumba.com